Thinking about financial planning and your decisions can affect you and your loved ones for a lifetime.
Renewing your financial mindset. Plan your new paradigm. A comprehensive financial plan helps you make decisions about your finances which empower all the important directives of your life. Your RRSP and your TFSA investments can help you take advantage of tax planning offered by the government.
Life-stage planning. Life is full of changes in direction regarding education, marriage, family, ageing of parents and then yourself, retirement and how you will spend your final years. All these life-stages take money. A priority in life is that you must have a decent income during retirement. How much money you have to live from in the future depends on investing today while you still have time on your side. Effective planning helps you assess your needs today while balancing your future retirement needs to provide income for the future.
Financial planning strategies apply to everyone at all stages of life and all levels of income. There is no gimmick involved. Facts have proved this out century after century. No saving today equals future insecurity. Glen Jackman, Editor, Adviceon®
Clarify your place-and-time values. Strategize based on your priorities but make certain that you pivot your planning to increase your involvement in dialogue with your financial advisor — your guide to financial security. A passive involvement reduces the potential of intelligent communication with any advisor. To help you, we need to do the full analysis, like a doctor needs to do a proper analysis before any good diagnosis and curative can be engaged. This involves essential honesty as we work together during each stage of your life.
When working with a financial mentor, the client cannot hold his cards close to his chest. Current situations must become intellectually clear in each life stage to the advisor if the proper algebra is to be applied. All financial planning is based on superior math analysis from which the advisor draws diagnostic conclusions. Only then can the proper investments and risk solutions be applied throughout a lifetime. Glen Jackman, Editor, Adviceon®
An education builds self-sufficiency. The proficiency of an adult depends on learning specific knowledge and skills that apply to whatever career path is chosen. A child's education may depend on your paying close attention to the careful planning of investments. If you have children, time will pass quickly, and they will be at the age of college or university, which can affect their entire life and the next generation. Imagine them as adults now. You must be honest with yourself today; tomorrow is too late! We can help you do the math.
Commit to potentiate tomorrow. As you work with us, it can never be a passive engagement. You must always assess your real circumstances to clarify your values and goals to the advisor. Begin to engage in strategic processes to move you forward to your goals. Moreover, these defined strategies may involve long-term engagements to guide you on to your life's quest to financial independence.
Kill your debt. Debt is backward detrimental compound interest sucking away at your future. The math indicates that debt can kill an otherwise sound financial plan. You may not be able to put your kids through school or buy a house if you prefer to have 25 dresses in your closet or always drive the shiniest car or eat out daily or take expensive vacations paid by high-interest credit card debt. Why pay $125 a month for a gym when one down the road can make due at $10 per month.
Live through change. We know that financial plans may need to adapt, based on changes in your situation over the years: marriage, birth, inheritance, a house purchase, rising mortgage interest rates, or change of job status. We will revisit and revise your financial plan to reflect these changes to keep you on track.
Comprehensive planning can help you form a newly engaged mindset. It will engage you with a mentoring professional who helps guide your financial future, with a design to reach your goals according to your priorities and purposes as you work together.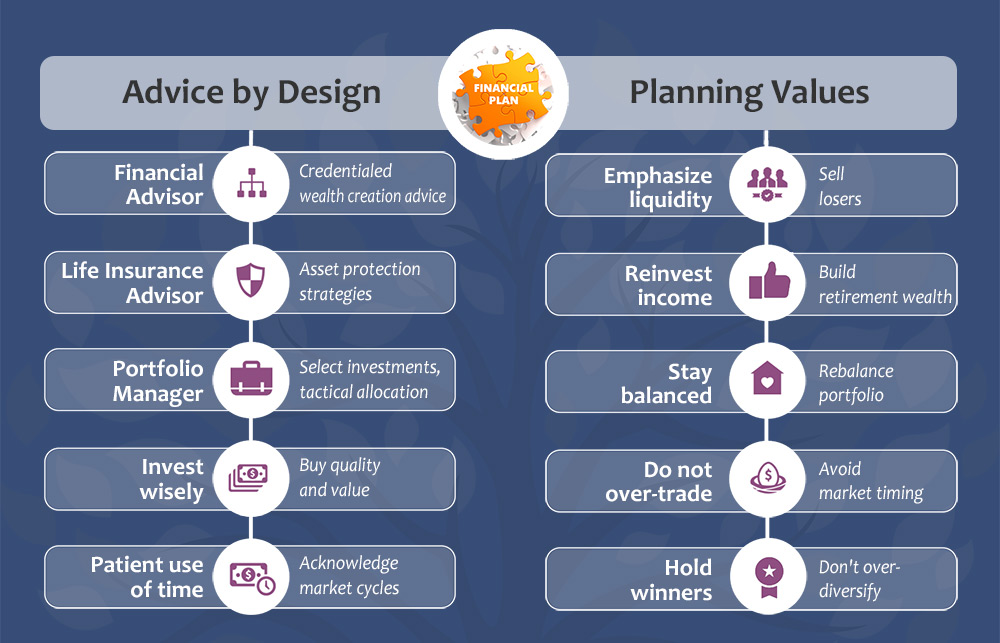 Source: Written by Glen Jackman, Editor, Adviceon®, president of Canadian Financial Publishing Group.